June 28, 2019
By Jacob Keiller: Chiropractor at Victoria Point Chiropractic.
Gardening is an extremely popular hobby with all age groups, from kids to young couples and more senior folk. It has been shown that gardening helps improve self esteem and mental health. It can also reduce stress and provide a regular sense of accomplishment. For these reasons and others, many of us spend hours at a time in the garden finding happiness in the dirt. Whether it is eagerly awaiting vegetables to grow or flowers to bloom, there are quite a few benefits associated with rolling up your sleeves and getting involved.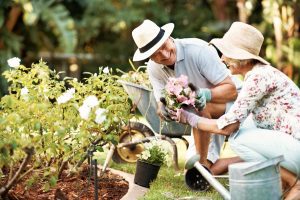 However, because this hobby can be very time-consuming, it is important that you are aware of the physical toll prolonged gardening can have on your body. Repeated episodes of bending over, digging holes, picking up pots and planting seeds can place a lot of stress on your lower back and then it won't be long until you become stiff and sore.
There are several steps you can take to make sure you don't injure yourself whilst tending to your garden, including:
Kneel when doing work in the dirt and regularly change legs when doing prolonged work.
Repotting on a table instead of the ground.
Lifting heavy items with your back straight and using your legs to lift upwards.
Using tools for the heavy lifting and cutting to save your hands.
There's no reason why back pain should keep you from tending to your garden, so try these simple changes and feel the benefits for yourself.
Back to Chiropractic News