December 30, 2021
By Leonie Schooling: Chiropractor Victoria Point Chiropractic
One of the most frequently asked questions we get in practice is: "What is the best bag or backpack for my child". Here are a few key points to consider when purchasing a new bag for your child.
Size: The backpack should never be wider or longer than your child's torso, and the pack should not hang more than 10 centimetres below the waistline. A backpack that hangs too low increases the weight on the shoulders, causing your child to lean forward when walking.
Shoulder Straps: Shoulder straps Shoulder straps should be wide and preferably padded. Non-padded straps are not only uncomfortable but can place unnecessary pressure on the neck and shoulder muscles.
Use both straps: Carrying a heavy backpack by one strap can cause a shift of weight to one side, leading to poor posture and muscle spasm in especially the neck and lower back.
Adjustable straps: Ideally the backpack should be centred to your child's back. Having adjustable straps makes it possible to fit the backpack to your child's body.
A padded back: A padded back not only provides increased comfort, but also protects your child from being poked by sharp edges on school supplies (pencils, rulers, notebooks, etc.) inside the pack.
Compartments: A backpack with individualised compartments helps position the contents most effectively. Ideally any heavy items should be placed closer to the body, with pointy or bulky items a little further away.
If your child prefers to use a shoulder bag, make sure that they wear it across the body alternating sides between classes. This helps to distribute the weight more evenly.
Source: American Chiropractic Association. August 17 2006
Image Source: Australian Chiropractic Association (ACA)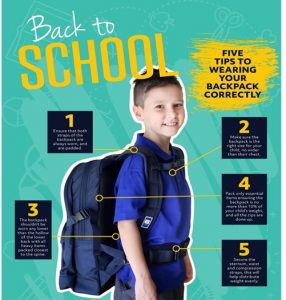 Back to Chiropractic News